Editor's Note: I have long been citing the e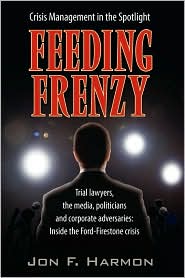 pic Ford-Firestone tire crisis as a milestone event in terms of global awareness regarding crisis management, so I'm particularly excited to bring you an exclusive excerpt from Feeding Frenzy, Ford insider Jon Harmon's perspective on one of the biggest business stories of the past decade. Mysterious tire tread separations-mostly on the Ford Explorer-caused an outbreak of horrific roll-over crashes, claiming at least 270 lives in the U.S. and more than 100 in other countries. The book details the efforts made by Ford's PR team responding to a nearly unprecedented flood of inquiries from internatonal media, stoked by daily attacks from plaintiff attorneys and safety advocates, along with two Congressional investigations. The compelling narrative includes invaluable crisis management "lessons learned." As the PR executive responsible for Truck Operations, Harmon led Ford's crisis media relations.
Ford introduced the Explorer in 1990, replacing the Bronco II. The larger and more stylish Explorer was an immediate hit and quickly became the most popular SUV sold by any automaker. As [plaintiff attorney Tab] Turner had begun to specialize in lucrative SUV rollover cases, he began looking for victims in Explorer accidents. He would argue in legal briefs that the Explorer was simply a modified Bronco II allowing him to recycle theories that had worked so well in his Bronco II cases.
Turner, along with other plaintiff lawyers and their legal assistants, also began combing over hundreds of thousands of notes and records created during the development of the Explorer. They studiously mined this new document trail in search of a "smoking gun." They hoped to demonstrate to a jury the callous way, the lawyers surmised, that Ford engineers had hastily developed the Explorer, rushing it to market, knowing full well that safety compromises had been made in the name of quick profit. This conspiracy theory was not plausible to those inside the auto industry for three reasons. One, it just was not possible to "rush a vehicle to market" and have that vehicle become a runaway hit, the No. 1 seller among SUVs of any size and from any automaker every year for the next 15 years. Two, in an era when information moves so quickly and completely, it was patently stupid to knowingly sacrifice real-world safety for some small cost reduction. And three, it ignored the fact that the Explorer's overall real-world safety record (in terms of fatalities per 100 million miles driven) was better than most of the other SUVs in its class and significantly better than the "average" passenger vehicle of any kind.
But courtroom justice bears little resemblance to the empirical exercises familiar to engineers where the correct answer demonstrably prevails. The members of a jury make decisions based on their eval-uation of the facts presented by both sides, for sure, but they also are swayed by emotion and intangibles, by what they feel in their hearts. At the center of every serious-injury or fatal auto accident is human tragedy, and often the victims are sympathetic characters. The jury feels sorry for the awful event that has come into the plaintiffs' lives. Then the jury hears the victim's lawyers make accusations about the large auto company with annual profits in the billions of dollars (not recently, mind you, but throughout most of the '90s Ford was immensely profitable). How else is the destitute family coping with tragic loss going to pay the medical bills? Shouldn't someone - or some company - have to pay for what's happened to them? The plaintiff attorney's objective becomes to present just enough of a plausible case to convince a sympathetic jury to award damages against a giant, impersonal company that might amount to a tiny fraction of its profits that year.
Yet, the real secret behind successful plaintiff attorneys was that they only rarely had to win in the courtroom. A successful verdict came only after a lengthy and difficult battle of wits against sharp corporate defense lawyers with vast resources. No, the secret was to create in the defense team just enough fear and doubt, and just enough uncertainty about the jury's sympathies that the company would decide to cut its losses with a settlement offer. Accepting a settlement also took away the uncertainty from the plaintiff attorneys, who took cases on a speculative basis, collecting one-third of any verdict or any settlement. The object was to win just enough high-profile verdicts to show the deep-pocketed corporations that they could lose if they went to trial, leading to a steady flow of subsequent settlement checks. (Indeed, in 2007 Turner & Associates claimed on its website to have reached out-of-court settlements in more than 150 rollover cases involving 16 different types of SUVs manufactured by eight different auto companies. As of February 2009, the website no longer featured a running total of tragic SUV cases on its website; perhaps the firm had decided it was better to emphasize personal service, just as McDon-ald's had several years earlier when it stopped updating the neon signs outside each restaurant proclaiming the number of billion of hamburgers served.)
And as Turner came to understand better than perhaps any other plaintiff attorney, there were ways to help turn on the spigot of corporate capitulation resulting in large and frequent settlements. Ways that involved turning the tide of public opinion against the company. Tab Turner knew the best way to influence public opinion was through the mass media. And all it took to generate a juicy, inflammatory story was to leak to an ambitious journalist some of the same documents he'd been gathering for years as he spun his conspiracy stories to juries, on those rare occasions when he actually had to take a case to trial.
Turner became so successful that he had bought his own personal jet to more easily move around the country paying visits to grieving families, all the while maintaining a level of comfortable luxury befitting such a successful lawyer. Of course, the image-conscious Turner went to great lengths to down-play the money he was making and the size of his own personal fortune. He did not want anyone to wonder how an extravagant lifestyle squared with a well-developed reputation as the champion of poor, downtrodden victims of greedy, rich corporations. When Turner collaborated with writer Adam Penenberg for the rather sappy biography Tragic Indifference: One Man's Battle with the Auto Industry over the Dangers of SUVs, they addressed the issue of Turner's private jet by declaring that it wasn't a "flashy jet," but more like a humble "Plymouth with wings." A few pages later, Penenberg reveals that the jet was actually a Cessna Citation, a sleek and modern aircraft that few of Turner's clients would be likely to confuse with a Plymouth.

* * *

Like any good student of public relations, Turner refined his method of placing stories in the media as he grew more experienced. He and many of the other trial lawyers hired PR firms to help them place stories in the media, but they did it quietly because they certainly did not want to be seen as corporate. By the time of the Firestone tire recall, Turner had developed excellent relationships with many journalists. A number of reporters from prominent and influential publications, notably Myron Levin of the Los Angeles Times and Mylo Geylin of the Wall Street Journal, were infamously reliant on plaintiff attorneys to bring them salacious stories of corporate wrong-doing. (Inexperienced corporate PR people from every industry had made the mistake of assuming that the Wall Street Journal's reporters would operate from a starting point sympathetic to Big Business. The opposite was often true. Many of the Journal's reporters had a quite liberal disposition and took it upon themselves to provide balance against the paper's overtly conservative editorial page.) Turner had an almost unlimited supply of Ford and Firestone documents from years of depositions. It didn't matter that neither he nor any plaintiff attorney had ever prevailed against Ford in an Explorer rollover trial. He was making a fine living on settlement money. And it didn't matter if these documents had invariably been presented as evidence in court only to be disputed and often thoroughly discredited by Ford's lawyers. If no one had written a story yet about the document it qualified as news, along with the conspiracy theory it "proved." All he had to do was slip the document to the media hounds and watch them ratchet up the public pressure against the automaker.

* * *
Lesson Learned: Know your adversaries' tactics. Arguing cases in a courtroom is a ruthless game. When trial attorneys bring a mentality of "win at any cost" to public relations, they aren't going to play by the rules we're used to. Know the technical side of your story inside and out. Call out misleading tactics of your adversaries while countering their accusations with facts.

* * *
[Louisiana Congresman Billy] Tauzin sent his closest aide and spokesperson, Ken Johnson, and two other staffers, first to Dearborn and then to Nashville, to probe into some of the most contentious issues before the hearings. On August 25, Ford's Helen Petrauskas and Tom Baughman welcomed the House Committee team and led them to a conference room on the second floor of WHQ. Ford lawyers and Government Affairs people sat in on the all-day meeting, and I represented Public Affairs. Petrauskas and Baughman answered most of the Congressional staffers' questions in direct, conversational language. When the Washington guests asked for documents that had been referenced, the Ford hosts readily produced them. The meeting appeared to be going well. Conversation was often light. When it was time for lunch, sandwiches were brought in so work could continue. By mid-afternoon, the staff investigators seemed pleased with the answers they had received along with the promises the Ford team had made to forward a number of additional documents that could not be located readily.
Tauzin's investigators would return to Washington for the weekend, then visit Firestone's Nashville headquarters the following Monday. Johnson remarked that Ford was cooperating much more readily than Firestone. He left us with the clear impression that Ford's helpfulness and Firestone's intransigence would be reflected in the tone of questions the two companies' executives would face in the hearings the following week. However, Johnson's demeanor would change when he stepped in front of media hungry for their next story. There was more political gain to be had for himself and for his boss by attacking both companies. Johnson and Tauzin would not hesitate to criticize Ford on any issues where they perceived vulnerability. The fact-finding visits by the investigators were all about finding weaknesses and contradictions in the two companies' stories. Congress would have plenty of hard questions for both companies. All we could do was to try to tip the balance of doubt away from Ford.
A pack of media had gathered outside the Glass House, undoubtedly alerted by Johnson that Congressional investigators were in the building. As the three staffers walked out of the building to the Lincoln Town Car limousine we had arranged to take them to the airport, Johnson talked to the journalists, paying particular attention to the two television cameras. Congress was determined to find out for the sake of the American public, he told them, why Ford and Firestone had waited so long to do anything about the deadly accidents.

* * *
Ford's Public Affairs team had triple duty in the two weeks leading up to the hearings. In addition to handling the deluge of media calls as well as the various pieces of employee and dealer communications, we now had to help Governmental Affairs and our lawyers prepare the written testimony and the vast amount of backup [Ford CEO Jac] Nasser, Petrauskas and Baugh­man would need as they were grilled by Congress. The extensive media Q&A that I had continued to add to each day was used as the starting point for the Q&A in the executive backup books being prepared for the Congressional hearings. Not every question was used and many new ones were added. Some answers were too long and some needed further explanation or added detail. We deferred to Governmental Affairs in matters directly pertaining to the hearings, of course. They conducted several extensive training sessions to prepare the executives for the questioning, similar to the media training that Public Affairs routinely conducted for company executives preparing for interviews. But there were fundamental differences, primarily in tone. In addressing Congress, deference was essential. An executive was not used to maintaining humility and respect for a person asking tough, even rude, questions. But a witness at a Congressional hearing must never forget to maintain composure and mannerly behavior at all times. The last thing you wanted to do was to get into an argument with a Congressman in a hearing, an argument you would not win.

* * *

ABOUT THE AUTHOR: Jon Harmon served in a number of senior PR roles for Ford before joining global truckmaker Navistar as VP-Communication and Reputation. He is currently based in Chicago as a communications consultant. Feeding Frenzy-Trial lawyers, the media, politicians and corporate adversaries: Inside the Ford-Firestone crisis by Jon Harmon; © 2009; all rights reserved by the author. 298 pages. Available at Barnes and Noble for $24.92.