Just a Thought
"Associate with men of good quality if you esteem your own reputation; for it is better to be alone than in bad company."
From the Editor
Sponsoring the Olympics is typically a no-brainer for major corporations here in the U.S., but the political climate surrounding the coming Sochi Games isn't turning out to be the easy reputation boost that companies like Coca-Cola, McDonald's and Visa expected.
This year's Olympics are caught in a controversy surrounding Russia's laws banning "propaganda of nontraditional sexual relations", which has been used to arrest gay-rights protestors and led both vigilantes and police to openly engage in violent acts against the LGBT commmunity.
Already, activists have hijacked McDonald's #CheerstoSochi Twitter campaign (yes, ANOTHER McDonald's hashtag hijacked, anyone else think they should stay away from them for a while?), and are using it to blast all of the large brands involved as sponsors. Here are just a couple of the thousands of examples on Twitter right now:
Some are even drawing comparisons between the Sochi Games and the 1936 Berlin Games, know as "The Nazi Olympics" to many:
Protestors are also gathering in places like London and Times Square to dump Coca-Cola into the gutters as part of a growing "Anything But Coke" campaign, and the company's own "Share a Coke" campaign has been hijacked to create images like this one: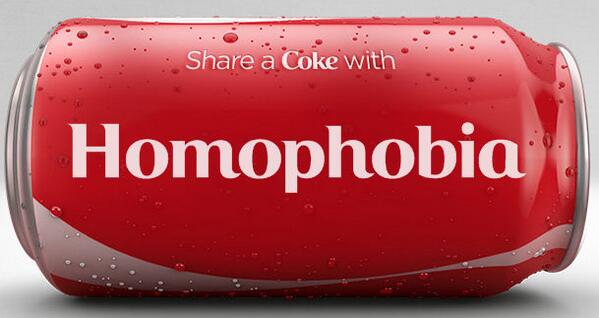 While all three major sponsors have issued statements insisting on their support of equal rights and anti-discrimination, activists aren't backing down. As the old adage goes, "actions speak louder than words", and to many the action of contributing millions of dollars to promoting an Olympic games in a outspokenly anti-equality country shows a lot more than paying a bit of lip service ever could.
Thank you, and read on.
Interested in repurposing BCM articles
or blog posts?
Would you like to share a post with your audience, reprint one of BCM's how-to's for office use, or take students through a set of case studies?
We're happy to give permission for material to be repurposed in just about any way you'd like. Simply submit a request to jonathan@bernsteincrisismanagement.com.
Blogs!
By Erik Bernstein

Here are just a few of the latest posts:
Crisis Management Quotables...on Helping Others to Help Yourself uses a quote from legendary ad man Leo Burnett to explain why being useful to your community has a major beneficial effect on your own reputation.
Losing personal information on big names like LeBron James, Tom Hanks, and Donald Trump meant this Car Service Hack was No Fender Bender.
Did you buy LinkedIn's Not-So-Convincing Intro Defense? The new app has security experts sweating, and the crisis management from LinkedIn isn't leaving anyone feeling too reassured.
A guest post from Rick Kelley, The Demise of Secrecy, draws a potent crisis management lesson from Gov. Chris Christie's "Bridgegate" debacle.
An online retailer is facing legal action after deliberately trashing the credit of a couple who left a negative review on RipOffReport in this shocking case of Online Reputation Management Done Wrong.
Can you believe there's ANOTHER MSNBC Host Doing Crisis Management? Apparently taking no lessons from Martin Bashir and Alex Baldwin, Melissa Harris-Perry was forced to apologize after guests on her show mocked Mitt Romney's adopted African-American grandson.
An important fact when it comes to Online Reputation Management: 16% of Yelp Reviews are Fakes - and that's just the number given by Yelp itself. Could false reviews be hurting your business?
2014: Year of the Cyber Crime examines predictions for the world of cyber security in the coming year. The experts are saying we're all but certain to see record-breaking hacks,
is your organization prepared?
Beyonce's latest album includes a soundbite from the deadly Challenger launch, and NASA employees, along with family and friends of those aboard the shuttle, are outraged.
Here, we look at Beyonce's Half-Hearted Crisis Management for Challenger Clip, and explain why, unfortunately, she'll probably get away without changing her tune.
Crisis Management Musts - Have a Backup Plan is a stern warning to always, ALWAYS have a Plan B. Our world is simply too unpredictable and, especially in the midst of crisis,
chaotic, to think your first plan will always work out the way you want.
Erik Bernstein is a freelance writer, editor of Crisis Manager, Social Media Manager for Bernstein Crisis Management, and consultant/trainer at Bernstein Social Media.
Apropos of Nothing
Social Media Training
Want to get your feet wet with social media but don't know where to start? Maybe you have accounts, but aren't sure what to post, or how to reply?
Being active on social media is a must these days, but you have to do it right. Erik Bernstein, Bernstein Crisis Management's Social Media Manager, now offers social media training sessions in person or via Skype for groups and individuals.
For questions or pricing info, please email erik@bernsteincrisismanagement.com
Bernsteins Available to Deliver Free Guest Lectures, Q&A Sessions
Jonathan alone, or the team of Jonathan and Erik Bernstein, are available at no charge to deliver guest lectures and host Q&A sessions with college classes via Skype or Google Hangout. Our latest presentation was to a great graduate-level class in Crisis Management at the New York Institute of Technology!
The lectures are fun for us and students, and we're more than happy to allow recording for your future use. All you need at your end is a single computer with webcam and a strong broadband connection for us to appear in your classroom in real-time.
Contact us for more info!
Attention Corporate Boards of Directors (and those who serve them).
If you're connected with a corporate board of directors in some way and think that board would benefit from having a veteran crisis management pro amongst its membership, please contact me. -- Jonathan
Business Announcements
(aka blatant self-promotion)
Are your employees putting your company at risk?
Most people don't recognize a well-crafted online phishing scam when they see one, and that's exactly what cybercriminals count on.
With more than 500 million phishing emails being sent every day, and the increasing use of uncontrolled environments for accessing and sharing sensitive data, the need for proactive training has never been greater.
You can help your organization fight back by changing the way security training is done. Here's our process:
Assess: Even before training begins, a simulated attack is launched on your employees. This not only helps you to assess current vulnerabilities, it also helps motivate employees to learn because they immediately realize how susceptible they are to an attack.


Train: Our tactile approach to learning is proven to reduce employee vulnerability. Each 10-minute interactive and game-based module presents realistic examples and practice to engage your employees, improve their cyber security knowledge, reinforce learning, and measurably change their behavior.


Measure: Data collected during training enables you to measure and report on the progress of your employees' learning. You'll know which employees are strong, and which are weaker in their cyber security knowledge - not just whether they completed the online training.
Don't let your employees fall for phishing scams hook, line, and sinker. Teach them how to recognize and avoid today's most advanced attacks before it's too late.
Learn more! Our always-available, cloud-based training content is available in 7 languages. For pricing and demonstration information, contact erik@bernsteincrisismanagement.com
Expanded Crisis Manager Bookstore
We've recently expanded the Crisis Manager Bookstore to include offerings from esteemed colleagues like Melissa Agnes, Gerald Baron, Chris Syme and Jim Lukaszewski that cover topics from crisis communication and traditional PR to social media and cutting-edge crisis management. We'll be adding other authors we admire in the weeks ahead.

Visit the new Crisis Manager Bookstore to see all of the material available now!
Keeping the Wolves at Bay: Media Training
Learn how to deal with traditional or social media during a crisis in this educational and entertaining guide from Crisis Manager publisher Jonathan Bernstein. $25 for the hard copy and $10 for the PDF.
Head to the Crisis Manager Bookstore for more information and/or to purchase.
Whether you're a seasoned manager, aspiring up-and-comer, or student of crisis management, Jonathan Bernstein's textbook, Manager's Guide to Crisis Management (McGraw-Hill, 2011) will put you in control of any situation.
Looking for a Turn-Key Social Media Solution?
Missing out on all the promotional, SEO and reputation management advantages of being active on social media platforms? Hire someone to be your voice...like Erik Bernstein, editor of Crisis Manager. He's the one largely responsible for keeping the Bernstein Crisis Management website and social media accounts highly ranked and popular and can do the same for you, while creating a set of valuable social presences that can be turned over to your full control at any time
More info:erik@bernsteincrisismanagement.com.
Guest Authors
Guest authors are very welcome to submit material for "Crisis Manager." There is no fee paid, but most guest authors have reported receiving business inquiries as a result of appearing in this publication. Case histories, experience-based lessons, commentary on current news events and editorial opinion are all eligible for consideration. Submission is not a guarantee of acceptance.
About Us
Jonathan Bernstein is both publisher of Crisis Manager and president of Bernstein Crisis Management, Inc., a national crisis management public relations agency providing 24/7 access to crisis response professionals. The agency engages in the full spectrum of crisis management services: crisis prevention, response, planning & training. He has been in the public relations field since 1982, following five-year stints in both military intelligence and investigative reporting.
Write to Jonathan at:
jonathan@bernsteincrisismanagement.com
.
Erik Bernstein is editor of Crisis Manager and is also Social Media Manager for Bernstein Crisis Management, Inc.
Write to Erik at:
erik@bernsteincrisismanagement.com
.
Legal Disclaimer (aka the small print)
All information contained herein is obtained by Jonathan Bernstein from sources believed by Jonathan Bernstein to be accurate and reliable.
Because of the possibility of human and mechanical error as well as other factors, neither Jonathan Bernstein nor Bernstein Crisis Management is responsible for any errors or omissions. All information is provided "as is" without warranty of any kind. Bernstein Crisis Management and Jonathan Bernstein make no representations and disclaim all express, implied, and statutory warranties of any kind to the user and/or any third party including, without limitation, warranties as to accuracy, timeliness, completeness, merchantability, or fitness for any particular purpose.
Unless due to willful tortuous misconduct or gross negligence, Jonathan Bernstein and Bernstein Crisis Management shall have no liability in tort, contract, or otherwise (and as permitted by law, product liability), to the user and/or any third party.
Under no circumstance shall Bernstein Crisis Management or Jonathan Bernstein be liable to the user and/or any third party for any lost profits or lost opportunity, indirect, special, consequential, incidental, or punitive damages whatsoever, even if Bernstein Crisis Management or Jonathan Bernstein has been advised of the possibility of such damages.
A service of this newsletter is to provide news summaries and/or snippets to readers. In such instances articles and/or snippets will be reprinted as they are received from the originating party or as they are displayed on the originating website or in the original article. As we do not write the news, we merely point readers to it, under no circumstance shall Bernstein Crisis Management or Jonathan Bernstein be liable to the user and/or any third party for any lost profits or lost opportunity, indirect, special, consequential, incidental, or punitive damages whatsoever due to the distribution of said news articles or snippets that lead readers to a full article on a news service's website, even if Bernstein Crisis Management or Jonathan Bernstein has been advised of the possibility of such damages. Authors of the original news story and their publications shall be exclusively held liable. Any corrections to news stories are not mandatory and shall be printed at the discretion of the list moderator after evaluation on a case-by-case basis.